Wystawy
Vernissage of the project 'Spot the Unnoticed' March 10, 2020
March 10 at 18.00 we invite you to the vernissage of the project "Spot the Unnoticed".

Vernissage of the project 'Spot the Unnoticed'
March 10, 2020, 18:00
Foyer of the KCK Big Stage
Grabiwoda-Wolski Project has its premiere. We invite you to the opening of the "guide" revealing the backstage of the interior of the Kielce Culture Center. Watch the multimedia presentation and whiteboards. Get to know the profiles of artists, look at archival photos. Just notice.
Every day we are so busy with our own affairs that we often do not see the world around us. Spring surprises us only with lush greenery, winter – the darkness of the afternoon and the cold. It is no different with architecture. Walking around the Big Foyer of the Kielce Culture Center in anticipation of a concert or spectacle, we rarely look at interior design, intricate and original details. And yet they were designed, created, made to please our eye. In the project "Spot the Imperceptible" we want to bring you closer to the interior authors of the Kielce Culture Center: Adam Wolski and Andrzej Grabiwoda. Thanks to our boards and multimedia presentation, we want to make the space surrounding our guests more friendly, understandable and simply noticed. Because old can also be beautiful.
Artur Wijata
Adam Wolski (1937-2011)
Author of the wall composition in the foyer at the Big Stage of the Kielce Cultural Center and low reliefs (stone at the main entrance to the Big Stage) and (and plaster – ….) at the entrance to the Little Scene of the KCK. Painter, sculptor, graphic artist, stage designer. He was born in Zagnańsk. He attended Kielce schools (including the Żeromski High School and the Norwid High School). He also studied at the Piarist school in Krakow, studied at the College of Fine Arts in Wrocław and Łódź. He was a graduate of the Academy of Fine Arts in Warsaw.
Andrzej Grabiwoda (1939-2003)
He came from Dąbrowa Górnicza. He defended his interior architect's diploma at the Academy of Fine Arts in Kraków in 1963. He came to Kielce straight after his studies and immediately gathered people around him who, like him, needed art to live. This is how a group of artists was created that animated the cultural life of the city. Interior designer, author and contractor (together with a team of 5) of the interior of the Kielce Culture Center.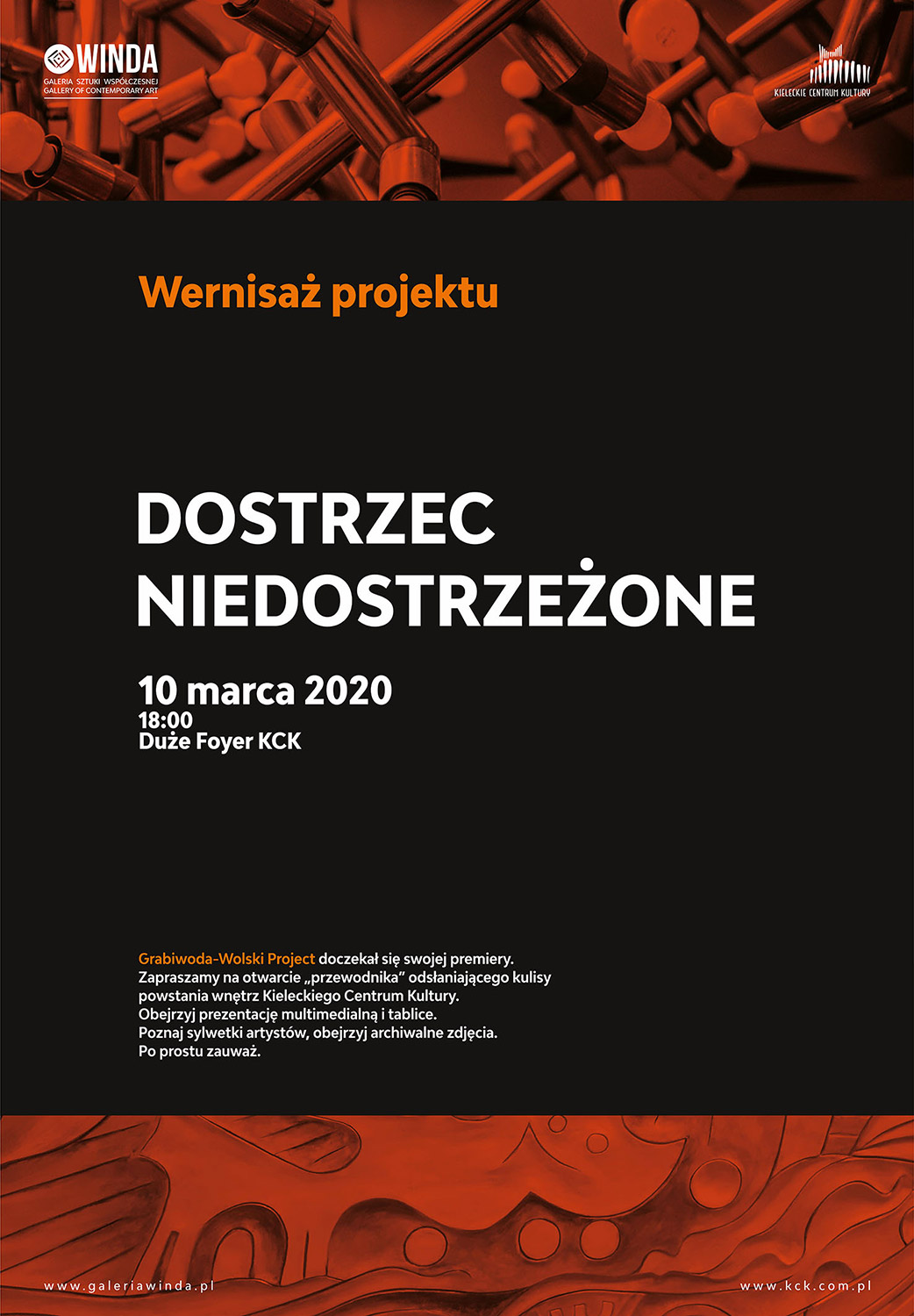 ---

return