Wystawy
Edward Dwurnik Listopad / Grudzień 2012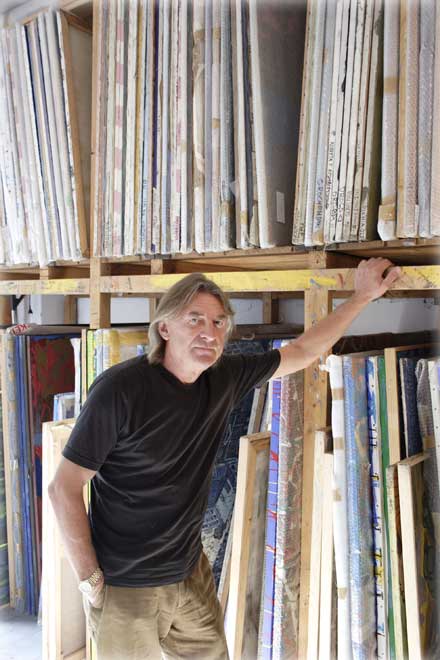 May  2012
Edward Dwurnik
 
An outstanding Polish painter and graphic artist, one of the most distinctive personalities in the Polish contemporary art. The only Polish artist who managed to become an international success before the fall of Communism (for instance, he took part in "documenta 7" in Kassel in 1982). He is also the only artist who became popular with all kinds of art consumers irrespective of earning recognition in professional circles.
Disobedient and provocative, unsteady and unpredictable, full of devilish sense of humour, he continues to trigger extreme reactions and causes a big stir, even amongst artists of the youngest generation.
Read More
He was born in 1943 in Radzymin. In 1963-70, he studied painting, graphics and sculpture at the Academy of Fine Arts in Warszawa.
In 1965, he set off, apart from following an academic programme, on a series of drawings and watercolour, and in 1996, he started oil paintings called Hitchhiking, characteristic bird's eye views of cities and towns (continued to date).
In 1970, he began producing several other painting series, including Sportsmen in 1972-1978, one of the highest ranked Dwurnik's painting series showing sort of grotesque and sort of comic-book heroes of a common day-to-day reality of the People's Republic of Poland.
Painting cycles that followed included two series devoted to tragic fate of people cast adrift  in history – in The Road East (1989-1991), Dwurnik commemorated victims of the Stalinism, and victims of the Polish martial law in From December to June (1990-1994).
In Dwurnik's works, one can find non-committed paintings like the cycle called The Sky Blue (1990's) – sea landscapes close to abstractions without a horizon and The Twenty-fifth – colourful abstractions in the action painting technique. Other cycles include The Portrait (from 1970's), The Labourers (80's), Long Live The War! (1991-1993), Blue Cities (since 1993), Diagonal (since 1996), Counting-out Rhyme (since 1996).
Apart from painting, Dwurnik does graphics and drawing (both independent series and illustrations). He enjoys projecting monumental painting compositions in public space. In 2007, he created drawings and gouaches to Andrzej Barański's animated film The Countdown (Warzywniak 360 stopni).
He lives and works in Warsaw.
Relation Exhibitions
---

return