Wystawy
,,Ato My 3″ Exhibition from May 9, 2019
We invite you to the exhibition "Ato My 3" on May 9, 2019 at 18:00.

Contemporary Art Gallery "Winda", KCK, Kielce "University of Arts, University Art".
Presentation of artistic achievements.
Although there is still a lot of time until May 9, but we are already in a hurry to announce the nationwide action "University of Arts, Art of the University". The spirit of events planned with a flourish is the National Conference of the Deans of Arts.
Let us add that this is not the very promotion of heterogeneous units (to which the Faculty of Pedagogy and Arts of the University of Kielce belongs), which provide artistic training outside the walls of the Academy of Fine Arts and the tutelage of the Ministry of Culture and National Heritage.
By joining the wide current in an extremely needed action, our goal is to draw attention to the artistic achievements of: students, PhD students and academic creators. Our intention is also to indicate creative potential; for creativity and workshop skills, for independence and originality of thinking present in artistic diplomas finalizing all levels of study. The compass are the words of Waldemar Dąbrowski, then the Minister of Culture and Art – an extract from the speech inaugurating the National Culture Program "Znaki Czasu", Toruń, 13/03/2004:
"In fact, artistic education faces a fundamental dilemma: whether to educate technical workers for the labor market, which are created by large media concerns and cultural industries, or see value and sense in recognizing the difficult craft of graphic techniques, painting, drawing, or the requiring years of sculpture workshop practice "Can you see this as a peculiar value that introduces a young student of the Academy of Fine Arts to the tradition of the creative process, gives a base of workshop and imagination and a chance for art?"
Curator prof. zw. dr hab. Małgorzata Bielecka
Patronage of the exhibition "Ato My 3"
Bogdan Wenta, Mayor of the City of Kielce, patronage
JM Rector's patronage: prof. zw. dr hab. Jacek Semaniak
Patronage of the Dean of the Faculty of Pedagogy and Art UJK dr hab. Sławomir Koziej, prof. UJK
ZPAP patronage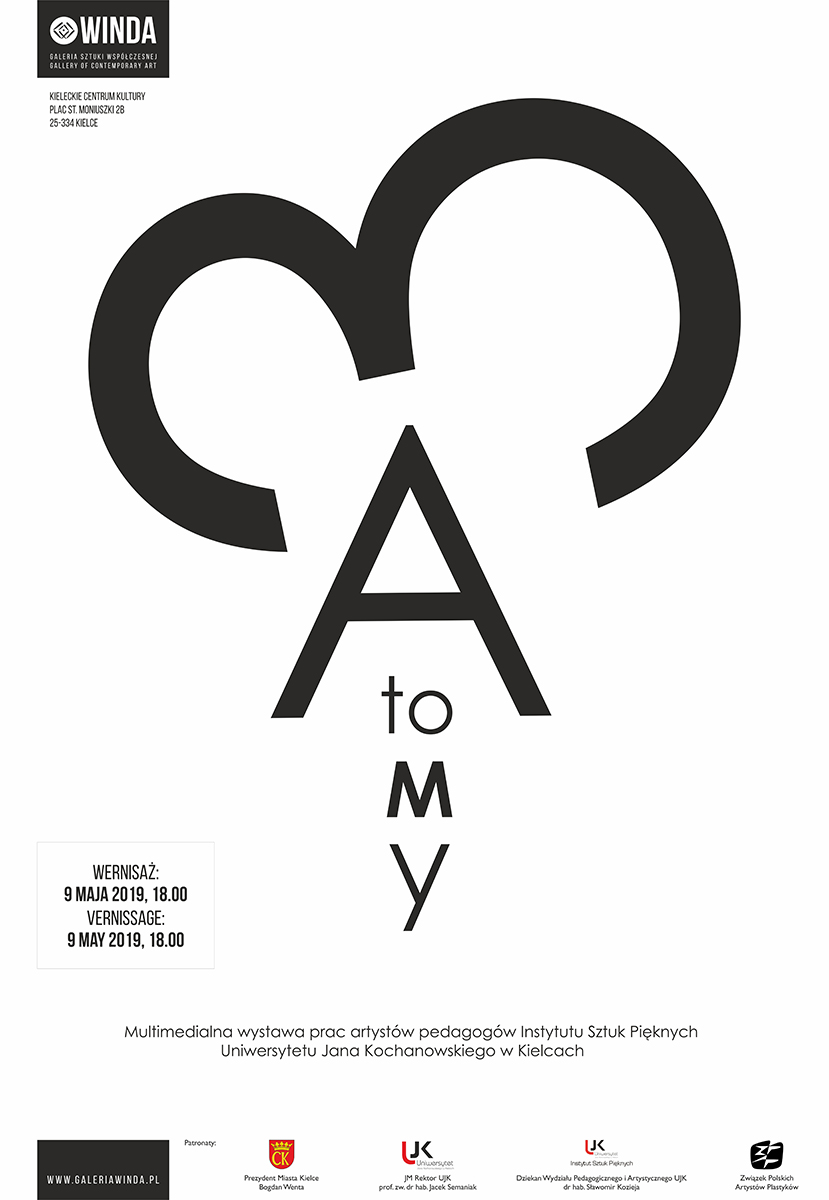 ---

return