Wystawy
Art Storehouse in the Lift Gallery 13 January 2012, 18.00 hours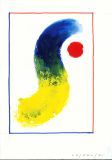 Art Storehouse in the Lift Gallery   
Vernissage  
13 January 2012, 18.00 hours
The Art Storehouse Association was set up in Spring 2006 in Warsaw by artists collaborating with the business named Art-Office, a patron of the Association.
Members of the Art Storehouse represent several generations and come from a variety of communities. They present various artistic stances and are engaged in diverse fields of fine arts, including painting, sculpture, graphics, etc. However, their need to collaborate with and support one another makes them meet and arrange individual and group exhibitions, and, since lately, plein-air events.
This time, we would like to invite you to get to know paintings by Barbara Pszczółkowska-Kasten, Eliza Kopeć, Iwona Stachura, Paweł Jasionowski and Gamid Ybadullayev. A common denominator for these artists' creative output are activities and searches on the border of abstraction and figuration. While the strongest associations with perceptible reality are evoked by Iwona Stachura's paintings with plant-like motifs, landscape references can be seen in Barbara Pszczółkowska-Kasten and Paweł Jasionowski's works, an entirely different field of artistic creation is occupied by Gamid Ybadullayev with his expressive splashes of paint and Eliza Kopeć, who builds orderly and harmonised images out of simple geometric shapes.
Iwona Stachura
Vice-President of the Art Storehouse
Barbara Pszczółkowska-Kasten
She was born and does creative work in Warsaw. She studied at the Academy of Fine Arts in Warsaw and earned a honour's degree at the Faculty of Graphics in 1963. Does painting, drawing, pastel. She was awarded the Ministry of Culture scholarship on four occasions. She has staged several individual exhibitions and taken part in a few dozens exhibitions in Poland and abroad, including Italy, Spain, Japan, France, Germany, Mongolia.
Eliza Kopeć (ur. 1960)
Studied at Academie voor Beeldende Kunsten Rotterdam. Graduated in 1987.
Individual exhibitions
2008 – Art Storehouse Gallery, Warsaw
2008 – EMgalerie, Drachten
2009 – Plan 4, Lisse
www.elizakopec.nl
Iwona Stachura (ur. 1968, Kielce)
She is a graduate from the State Higher School of Visual Arts in Poznań, earned a diploma in the field of painting in the studio of Prof. Jerzy Kałucki in 1996. She is engaged in painting, utility fabrics, graphic design. She teaches drawing and painting at the Józef Szermentowski Complex of State Schools of Fine Arts in Kielce. She collaborates with Art Office, a Warsaw-based business, Krebsen Gallery in Copenhagen, Autoped Foundation in Rotterdam. She is Member of the Governing Body of the  Association of Polish Artists and Designers, Kielce Region Branch and Vice-President of the Art Storehouse Association of in Warsaw.
Individual exhibitions:
2007 – Art Storehouse Gallery, Warsaw
2007 – W Ramach Art Gallery, Kielce
www.iwonastachura.pl
Paweł Jasionowski
1982-1987 – He studied at the Academy of Fine Arts in Warsaw, Faculty of Architecture.
Artistic activities – exhibitions
2010 – Atrium Plaza in Warsaw
2009 – TARABUK
2009 – Art Storehouse Gallery
2008 – GREEN GALERY
2008 – Club of Warsaw Garrison Command under patronage of the University of Ecology and Management in Warsaw
2007 – Art Storehouse Gallery
2006 – AKTYN Gallery
2006 – Bielany Cultural Centre
Gamid Ibadullayev (ur. 1980)
Studied Ceramics and History of Arts at the Academy in Baku. Since 2005, he has been living and working in Poland. He was a founder of music and artistic groups Untitled (2006) and Gamid Group with whom he has created music for his own films and silent films. In 2008, he graduated from the Academy of Film and Television in Warsaw, having earned a diploma in cinematography. Recently, he has been engaged in a variety of arts, including painting, music, film, spatial design and photography. In Poland, he took part, among other things, in two subsequent editions of the Transkaukazja Festival and presented his works at individual exhibitions, including the Art Storehouse Gallery (Warsaw 2008 and 2009), Art Pharmacy Gallery (Geca Gunduz project, Warsaw 2010/2011) and Synagogue Centre in Zamość (META-morphic Processes, 2011). He is a member of the Association of Azerbaijani Artists – Photographers and the Association of Azerbaijani Visual Artists. His paintings can be found in private collections in Poland and abroad.
www.gamid.eu
Relation Exhibitions
---

return