Wystawy
ABRA KADABRA – Painting Exhibition by Olgi Wolniak 14 May 2016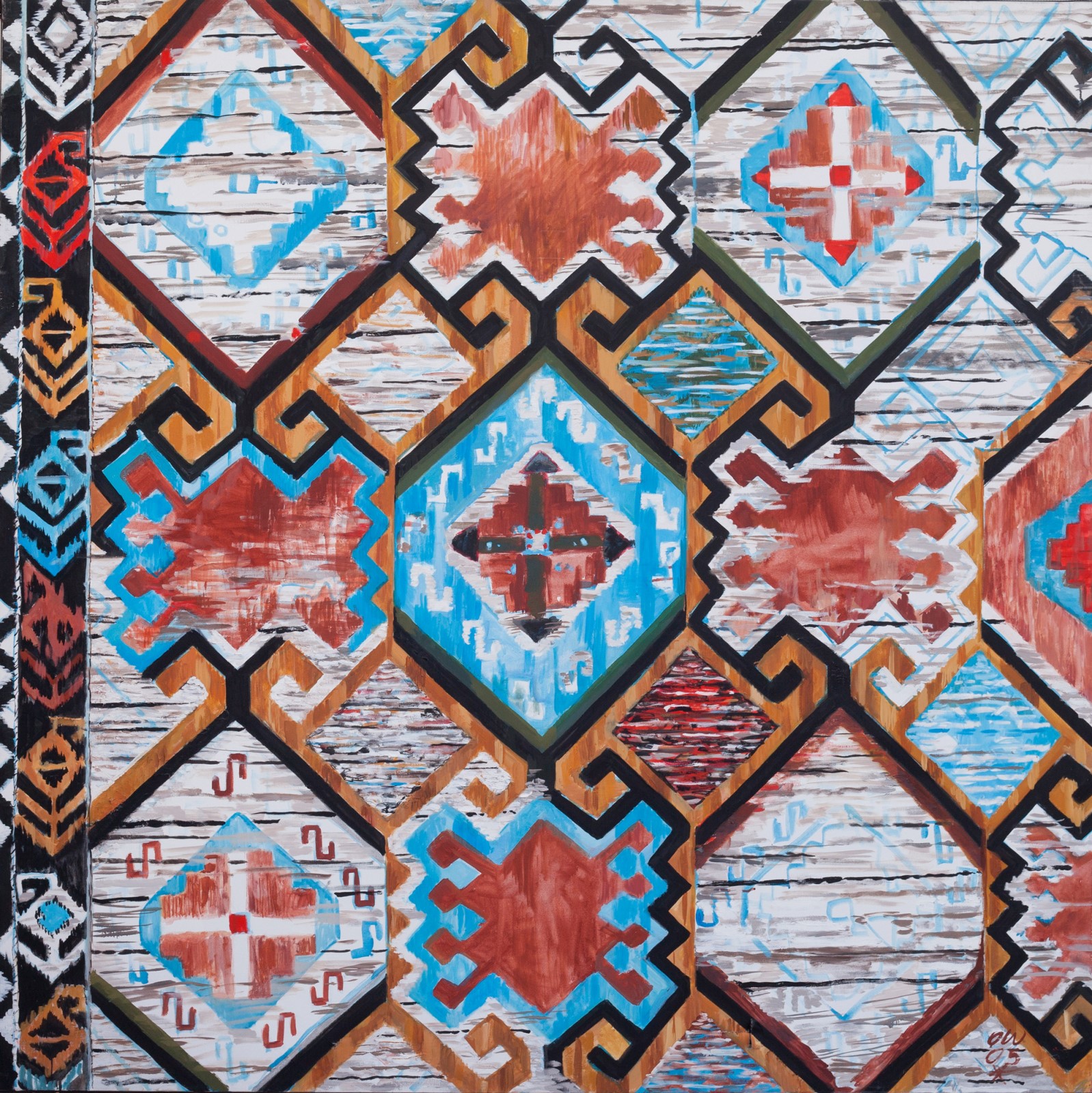 European night of museums – Off Fashion 2016

Exhibition Abra Kadabra

Olga Wolniak

The Magic of Color
"A fabric is the starting point for explorations involving colours and emotions" – Olga Wolniak once said and these words can be well confirmed by her paintings, even more distinctly in the recent ones, with magic of colours being set free and casting a spell. Colour is discharged from an obligation to follow the pattern and direction of lines, independent of the course of ornament.
In Olga Wolniak's painting, focusing on the domain of colour is not about creation of a picture which is immersed in a cool rationalism, allowing for the principles of contrast or colour harmony, lowering the temperature or strengthening the intensity or value. Colour is the confidant of emotions, a friend of feelings. The artist approaches the colour intuitively, purely, directly, which does not mean an absolute freedom or giving up the rules of painting or experience. She cultivates maturity, contributes to the taste and feel. She works with the colour which is pure, independent, absolute, which raises associations with a thread or fabric dyer or pigment manufacturer work. It is them who, besides weavers and knitters, were colour experts in past centuries. She checks out colour combinations, looking for new solutions, not always obvious ones. In her recent paintings, she enjoys great colourful element, sets the colour free, while earlier she used to build compositions very muted in terms of colour expression, almost monochromatic ones. Olga's colours, even if mild, are always clear, absolute, independent. There is no dirt or lack of vibrancy. Yellow background resonates with pure black, red and blue pattern, navy blue does not suppress a drop of red and white, emerald green combined with amaranth strengthens their saturation. The intensity of the colours of the South and East. Glow of precious stones, hallucinations and intoxicating smell, air vibrating in the heat, the colour of loving ecstasy, a bouquet of exotic flowers. Enchantment with colour.
A fabric is the very beginning of this kind of painting, its inspiration and inception. A fabric was not chosen at random, it is not just about the visual appeal of it. It seems that what is of the utmost importance is that it has always in close proximity of humans – at home, in a tent or temple, but also near the body in a very direct way, as clothing. What is important for Olga Wolniak too is that weaving has always been a traditionally feminine domain, the domain of women's handwork. Fabrics in her paintings first appeared as "documentation" of colourful rugs, originally complete ones, and then their fragments. Thereafter, a dominant theme was different kinds of woven fabrics from all over the world, in the richness of colour harmony, variety of weaves and patterns – lace, embroidery, batik, ikat. .. Colourful constellations so pleasing to the beholder's eye. It is presumably delight in an independent, intense "being of a colour" in those extravagant and often ritualistic objects that has led to the expression of that spell in the picture. Olga Wolniak has found in the tradition of fabric her vivid relationship with painting, and intuitively sensed relationship turns out to be as much justified as can be. It was Aristotle who first took notice of that relationship, and then late antiquity commentators followed in his footsteps. They believed that the most thorough knowledge of colour harmony and contrast of colours was the knowledge of artisans who worked with fabric. The relationship of colour and hand-woven fabric was further described in the early Middle Ages, consolidated by the admiration for the products of the East, especially carpets, which then reached the outskirts of Europe. As early as then, pure decorativeness was combined with colour in a bold and direct manner (which seems very modern). Nicephorus, the Patriarch of Constantinople in the early ninth century, wrote that religious ceremonies were highly esteemed "because they involved decorative fabric against which they were shown." Association of fabrics, colours and dyeing also echoed in the apocryphal Gospel of Philip, which contains a comparison of God to a dyer, who conveys, through baptism, a permanent colour to all creatures. It is universally accepted that appreciation for the pure colour may be a phenomenon having oriental sources, after all optics developed in Oriental cultures rather than in medieval Christian Europe. Olga Wolniak consciously refers to the Oriental tradition. Just like fabric weavers and dyers, she looks for the most uncompromising solutions in terms of colour, subtly modulating the surface of colour and revealing relationship of colour spot with play of points and threads of colour of a woven fabric, receiving a special vibrancy and "materiality" of colour.
People writing about Olga Wolniak's painting, just to mention Małgorzata Kitowska- Łysiak or Krzysztof Żwirblis, pointed out to the role of a fabric as a source of that kind of the art of painting. They made attempts at reading the meanings of ornaments, touched upon feminist issues, not forgetting about ties of her paintings with the tradition of still life painting. In the latter case, it was emphasized that by making fabric a basic theme / motif of painting, she brought it from the background, from the second plan, so to speak, which was a place usually occupied by it in still life paintings. Fabric, as well as its designs and patterns, have an distinctive identity, are a value "in itself". At the same time, the artist first of all exposes purely painting qualities – a picture is unvaryingly a picture, an autonomous entity rather than a mirror of reality. She does not duplicate with an illusionist accuracy the material and ornaments of carpets, batik, ikat or laces. She shows them as sources of the picture only. In Olga Wolniak's style of painting one can observe a conscious departure from realism, which was apparent in the early work, towards abstraction, autonomous language of painting, first of all towards colour, in most recent paintings.
The style and nature of Olga Woźniak's painting seems to have remained unchanged for years, almost from the very beginning, yet in the area of inspiration and fabric, more and more new themes, textures, colours and patterns are being discovered. An inexhaustible wealth is being disclosed. What is consciously and very directly invoked is decorativeness, ornamentality, overlooked by the Western European culture and openly depreciated by contemporary art.
The beauty of life, delight, the beauty in itself. Strongly saturated colours: "luminous, out-of-this-world surfaces of abstract cosmos." Pictures – the magic of colour.
Lena Wicherkiewicz

Olga Wolniak was born in 1957 in Rangoon, Burma.
In 1975-1980, She studied at the Faculty of Painting, Academy of Fine Arts in Warsaw. She received a diploma in Painting in Architecture (currently Art in Public Spaces), mentored by Prof. J. Karczewski. She is very active in terms of creativity, participates in numerous individual and group exhibitions in the country and abroad.
Her works can be found in the collections of The National Museum in Warsaw, The Zachęta National Gallery of Art in Warsaw, The Royal Castle in Warsaw, The ING Polish Art Foundation Collection, The Ilana Goor Museum in Yaffa and private collections. She collaborates with The Bogusławscy and Partners Architectural Design Studio, JEMS Architects and A. Wyszyński, an architect, creating wall paintings and murals. In 1995 – 2004, she contributed to the movement for development of Warsaw Praga artistic life, organizing "Open Studios" and artistic events. In the past few years, she has actively taken part in Warsaw Żoliborz artistic life, organizing plein-air paining events as part of Żoliborz festival and Żolifest. In 2012, she was involved in Żoligaraż – painting murals in Żoliborz district's public space.
Since 2013, she has been involved in a public space artistic project called Artistic Żoliborz.
Relation Exhibitions
---

return